Enhanced Gateway firmware for the 2nd Gen Gateway and Inverter with logging to PVOutput.org, EmonCMS or even both.
What you will receive:
New SD card, just pull the old one out and install the new one

Option to log-in to the Enecsys Gateway Config menu

Possibility to add PVoutput API and SID Key to log data immediately to pvoutput.org. (See energy portals section for more details)

Possibility to add EmonCMS API Key to immediately log to our own hosted EmonCMS installtion on Swiss-Solar-Log.ch

(See energy portals section for more details)

Real-time

information page on the Gateway itself which does not require a cloud and does not have historical data*.
That's all covered in the one-time installation price (inkl. SD Card and shipping)!
The setup of the dashboards in EmonCMS and additional information on pvoutput.org are not covered.
We will provide a guide for EmonCMS to do it yourself or a small training via teamviewer.
PVoutput.org does also have a informative help page for setting up all the goodies of pvoutput.
If you need help in setting up dahsboards in EmonCMS or want me doing it for you, please visit the EmonCMS dashboard creation product page.
Access to older historical data from enecsys portal not possible as this data was deleted each time the gateway had a connection to the enecsys portal. Our SD Card comes with an empty database.
To log the data on emoncms or pvoutput.org you have to setup the desired feeds to do that in emoncms.
Real-time dashboard on the gateway itself: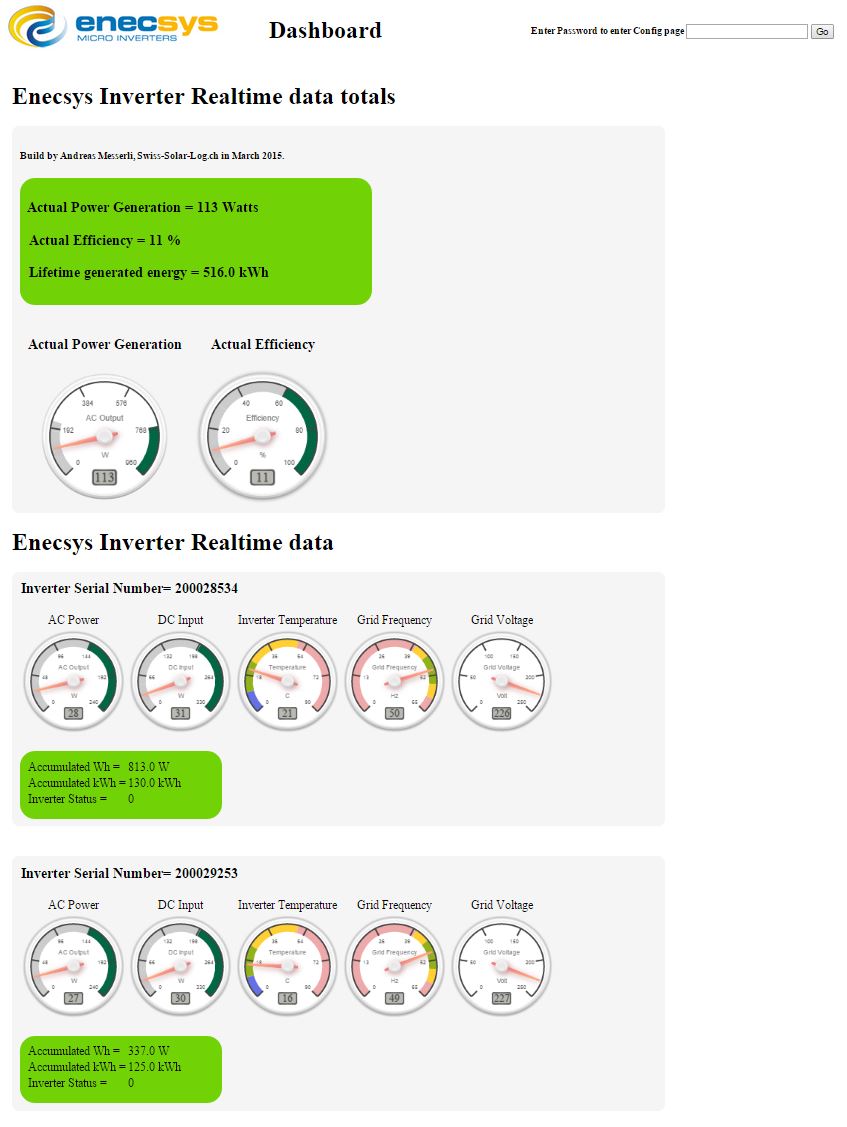 Here are some example dashboards we've created for our customers:
Total overview page of installation: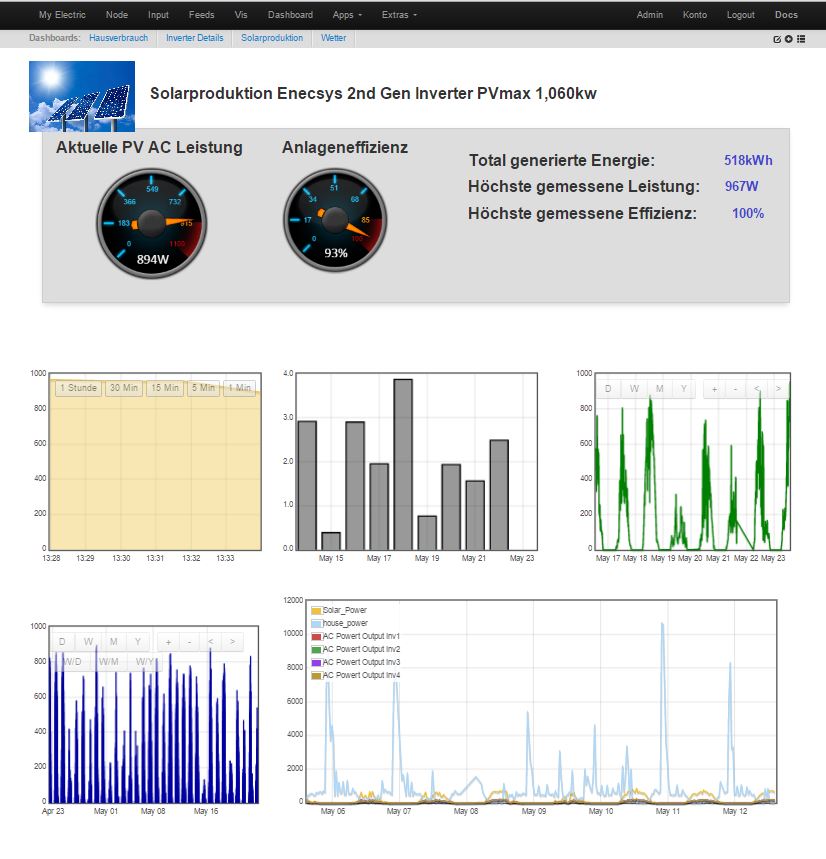 Inverter details dashboard:
This are running examples of dashboards you can create in EmonCMS. The designer app let's you freely place the elements by click and drag. Resizing is as easy as re-sizing a Windows window!
You even can make the dashboards public to let others see your dashboard or to use it on your phone/tablet without the need to logging in.
See running examples here:
To setup your card please use the comment field to deliver the following information:
PVOutput.org API Key and System ID (if needed)
EmonCMS Write API Key
Gateway and Inverter Serial Numbers (Mandatory!)
With this information we will setup your SD card and it should start to log automatically after you have exchanged the SD card.
One time installation cost CHF 50.-- No additional costs or yearly fees!
Please note that this enhanced firmware will only work with the 2nd Gen Gateway and Inverters of Enecsys!